OUR STUDENTS ARE PLACED HERE
Ten Reasons Why You Should Join the Banking Sector in India!
The banking sector has always been an attractive option to aspirants from all backgrounds. This has never been truer than it is today. It offers a lot in the way of job security and pay. But these are not the only reasons to prefer jobs in banking. Here are ten reasons why you should join the banking sector.
1. Scope for Individual Growth
For talented and dynamic professionals, the competitive environment of the banking sector provides ample scope for individual, vertical growth. It provides employees an ambiance that is conducive to scaling new personal heights and improving job profiles
2. Variety
The banking sector is one of the most diverse sectors to work in. The choice of jobs as well as the variety in types of work that it offers ensures that there is a profile that will definitely suit your interests and aptitude. From Bank Probationary Officer to Financial Analyst, from Account Manager to Specialist IT Officer, there is a wide range of options to choose from.
3. Challenges
The work in the banking sector is multifaceted and you can keep monotony away by challenging yourself at work. This is a highly motivating factor for people who are ambitious and seek to develop their personality. With both physically and mentally stimulating work, you can work at the optimum levels of endeavour.
4. Opportunity for Growth of the Economy
Finance is a major part of the focus of any government's policies. Banking can be safely called as the backbone of the Indian economy. Working in the banking sector provides an opportunity to each employee to contribute towards the growth of the economy through his work, whether mammoth or miniscule. There is indeed no better way to simultaneously work for yourself and serve the country too!
5. Extensive Traveling
Jobs in the banking sector can involve settling in different parts of the country, and sometimes abroad too. A banking job entails a lot of travelling for various purposes. This includes both domestic and international travel. As such, one is able to work and enjoy leisure at the same time by breaking the monotony of a mundane office.
6. Handsome Salaries
Let's face it! Money matters! Today's generation looks at money as a source of happiness. When good money can be made from work that interests and suits you, nothing like it. In this regard, the banking sector proves to be the best bet. A handsome remuneration is what you get for your work in a bank. They also give out bonuses and other incentives over the course of your employment based on your merit and seniority.
7. Creativity
A job in the banking sector is an evolving job. With more and more money being generated every day in newer and newer ways, the roles and responsibilities of banks also change regularly. With the injection of business principles into banking, creativity at work is now valued more than ever. With the advent of mobile and internet banking and with the push for global financial inclusion, there is no ceiling to how creative you are allowed to get.
8. Exposure through Communication
A major part of banking revolves around providing essential services to customers. Communication and interaction with these customers is of utmost importance. This interaction provides the basis for exposure of employees to different types of people with varied needs and lifestyles. This experience greatly enhances one's skill sets and confidence in the long run.
9. Job Security
A job in a public sector bank is considered a job for life. With opportunities to advance at work and not worry about being fired because of downsizing or a bad economy, it is easy to see why banking is considered so attractive a sector. Add regular perks to the mixture and banking is the sector to strive for.
10. Job satisfaction
Given all the perks and advantages of a lucrative job in the banking sector, attaining satisfaction in this work is inevitable. Since job satisfaction is one of the most important criteria in a selecting a job these days, it is also one of the most convincing reasons why one must opt for work in the banking line.
Begin Your Banking Career
PROBE Placement Testimonial
WHAT'S IN IT FOR ME?
The best use of 180 hours! Because our power-packed Professional Banking Executive Program (PROBE) course entirely equips you with the fantastic skillsets required to begin a prolific career in banking operations, trade finance and clearing services. All you have to do is learn and we'll do the rest to ensure that your future is as bright as it should be.
Job Relevant Skills
Master the knowledge that lies within the functioning of retail banking operations. And that's not all – get an in-depth understanding of complex systems and process know-how.
Job Relevant Skills
We are certain of the quality of our program which is why it comes with 100% placement assistance. With 15000+ placements completed with 60% salary hikes, we offer extensive career support to kick start your banking career.

Gain Industry Certifications
Armed with the PROBE certificate, you will be thrilled to find Bankedgeians successfully employed in most private sector banks and NBFCs. Shine bright among other applicants with our certificate that is recognized by top recruiters across the BFSI sector.

Learn Live
Lived enabled instruction is proven to provide the best student outcomes. Learn from the finest in our state-of-the-art classrooms located across India and carve the career of your dreams.
WHAT IS THIS PROGRAM ABOUT ?

360-Degree Learning
Practical Learning
We include banking simulations and case studies to create a realistic practical experience where true learning takes place.
Industry-Aligned Curriculum
Our retail banking course covers everything from complex systems to basic and advanced knowledge required to prosper in the BFSI sector.

Tech-enabled Learning
Learning Management Systems
We are particular about wanting learning to continue beyond the classroom. And so, you are given full access to our seamless, online LMS.
Tech-Aided
The use of internal and external technology enables you to fruitfully engage with your coursework and keep track of reading material.

Career Services
Placement Assurance
Our career assistance team guides you through the placement process by providing expert tips on the BFSI sector. Their support thoroughly runs from the beginning of your resume building to the conclusion of your interview preparation.
Skill Building
Apart from empowering you with domain-specific knowledge, we ensure that you also develop soft skills that will enhance your ability to effectively communicate and present your ideas.

Learn Live
Industry-Endorsed Curriculum
Crafted by industry experts, our curriculum is holistic, practical and comprehensive. In other words, you are learning the best from the best.
Networking Opportunities
Connect with the experts and our alumni to further augment your learning and maximize every opportunity that comes your way.
Retail Banking Operations
Security Information System
Financial Crime Management
Interview Preparation & Soft Skills
WHAT CAN I BECOME?
Forex Transactions Executive
Credit Relationship Manager
Assistant Acquisition Manager
Executive (Wealth Management)
Transactions Operations Executive
Fraud Detection & Vigilance Officer
HOW DO YOU TRAIN?
Through practical scenarios, realistic simulations and hands-on assignments, you will cohesively comprehend the BFSI sector and develop a supreme ability to contribute value to the workplace from day one.
Case Studies
Real-world case studies and complex business scenarios prepare you to successfully make the transition from academics to the retail banking industry.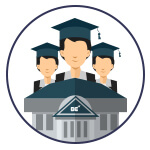 In-class Simulations
Rise above traditional rote learning through the use of simulations that recreate challenges faced by the BFSI sector. Through vivid trading simulations, understand how multi-million dollar transactions flow through banks and affect various processes.
Assessments and Teach-backs
Make presentations on real-life scenarios and understand how general market dynamics affect the world of retail banking. Also, attend guest lectures from industry experts to reinforce the quality of your theoretical learning.
Industry Interactions
Make presentations on real-life scenarios and understand how general market dynamics affect the world of retail banking. Also, attend guest lectures from industry experts to reinforce the quality of your theoretical learning.
WHAT SUPPORT CAN I EXPECT?
Learn and we'll place you! Make a successful transition in your career with partnerships of top tier hiring firms in the BFSI sector.
Placement Opportunities
You will get up to five assured interviews with leading firms in the BFSI sector with our placement assurance program. You will also have access to our placement portal and available leads and references from our large network.
Profile Enhancement
Our dedicated CAS team will advise you on how to strengthen your portfolio with courses and other projects to truly impress the interviewers and deservingly get the job of your dreams.
Resume Building
Our team of experts will work with you to not only polish your existing CV, but to also update it with achievements and skills that will help you score positions in top-tier firms.
Interview Preparation
Be it interaction with HR or technical selection stages of interview scenarios, will prepare you to communicate most effectively. Our model includes basic to advanced question-answer sessions, one on one mock interviews and also panel interviews led by industry experts.
I WANT TO JOIN! HOW CAN I?
The PROBE program stands tall in the category of finance courses because of its depth, expertise and accurate relevance to the banking industry. It is a valuable walk from knowledge to prosperity. Learn with us and get placed at leading institutions in the BFSI sector!
To be eligible for the course, you must be a recent Graduate from any stream with 0-3 years of work experience.
WAIT! I HAVE SOME QUESTIONS
What is the format of the Probe Program?
The PROBE (Professional Banking Executive) program is a 150-hour of Retail Banking Certification Program that provides banking career aspirants aspirants with an in-depth understanding of banking products, processes, operations and prepares them to take on entry level job roles in Retail Banking.
What is the duration of the program?
The PROBE program is a 3-month program done on weekdays, and a 4 month program if done part-time on the weekends. Please contact the nearest centre for more information.
What study material will be provided to us for the program?
The core learning will happen via 150 hours of classroom lectures at the centre where you registered. You will also have access to additional study material on our high-tech Learning Management System, PowerPoint presentations, Case Studies, Quizzes and eBooks on the learning portal. You will need to log in to the learning management system using the credentials provided and navigate through the LMS as required.
What is the eligibility criteria for placements?
In order to be eligible for placement, candidates needs to clear the final certification exam of PROBE with at least 60% grades and ensure an average attendance of at least 90% in classroom sessions.
What are the fees for the program?
The Professional Banking Executive Program costs INR 60,000 /- for Classroom Mode and INR 35,000/- under the Online Mode. You can pay by Cheque, Credit / Debit Card or net banking from all leading banks. We offer 0% Interest Free EMI Loan options as well.
What is Retail Banking?
Retail banking, also known as consumer banking, is the provision of services by a bank to the general public, rather than to companies, corporations or other banks, which are often described as wholesale banking. Banking services which are regarded as retail include provision of savings and transaction accounts, mortgages, personal loans, debit cards, and credit cards. Retail banking is also distinguished from investment banking or commercial banking. It may also refer to a division or department of a bank which deals with individual customers.
Why should I choose your investment banking certification in India?
Our professional courses in Retail Banking and accredited certification courses in Finance not only teach you how to be a Retail Banker in India, but also provide industry insider tips, help you build networking and learn the nuances of Retail Banking. Unlike archaic Banking and Finance Degree programs, our Professional Banking Executive Program is recognized by leading giants of BFSI Industry.
What is the assurance of Placement on completion of Probe Certification?
On successful completion of Probe Certification with 60% Marks the candidate is sent for Interview Opportunities with Leading Private Sector Banks and Financial Companies. In last 5 Years through this training program we have trained more than 25,000+ young graduates and have placed 15,000+ graduates in Leading Private Banks.